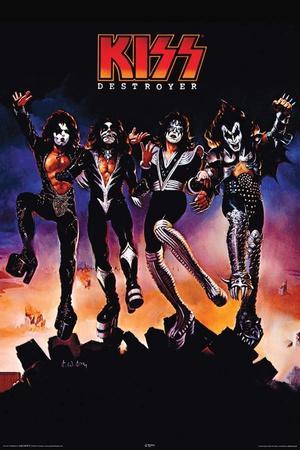 This is a true story.
I was about 15 (1979) when my dad came into my bedroom one evening after school and said, "Son, I've invited a missionary to speak at Calvary for 3 evenings. He'll arrive here next week and he'll be staying in your bedroom. You will sleep on the couch. Is that ok?" "Sure dad," I said.
I really did not think about it until a few days before the missionary arrived. You see, my bedroom wall was plastered with classic rock posters: ELO, Eagles, Peter Frampton, Fleetwood Mac, Boston, several others, but then there was that one – center stage on the largest bedroom wall: KISS. And that's when it hit. This missionary would go to sleep with Gene Simmons' waging tongue looming over his head. I thought to myself, "If you're going to preach God's Word you probably should not have that image in your mind."
So . . . I wrestled with the problem. I actually was flummoxed. My dad never did tell me to take those posters down. He shrewdly left it up to me. I have no idea if dad was bluffing to see if I would do it on my own or not. But at that moment I didn't care because something happened in my heart (which was rare in those days! and still too rare today): it really bothered me that if I could not take these down at least for one week, then what does that say about my identity – who I am? Is my identity based upon my connection to classic rock – is that who I am? I found myself troubled that I had become what I was worshiping: a wanna-be-classic-rock guitarist. "Surely I can live without these posters for one week," I courageously said to myself.
So . . . I began taking each poster down, ever-so-gently, folding each one properly to be replaced back on the walls within a week. The week went by without a hitch – missionary gone – got my bedroom back – got the box of posters (and all my 33's and 45's) that I hid in the closet out and began to, 'ahem, rebuild my shrine. Surprise: I felt like a hypocrite. I just sat there thinking and thinking about who am I?.
One week later the posters were burnt . . . and I began to sell off each album in the school cafeteria – some albums still in their plastic wrap. To this day I would say, not because I thought/think that listening to classic rock is sinful (I still listen to it from time to time), but because I did not and do not like my identity being stolen from me: in the most elementary way in those days, I knew that I was "in Christ" and that nothing in this life is to take that place; I did not want anything other than Christ to so own my identity. Not that I lived valiantly for Christ (I did not), but I did know that classic rock is not to be who I am. I'm much more than that.
To this day, I fear the power of Idolatry upon my life. I don't want even the good things, the blessings of this life to have such a grip upon my affections, choices, ambitions, so as to rule my life. Jesus is the only Master and Lord that will truly keep my life in balance with the world that I live in.
Thanks dad, very clever of you!